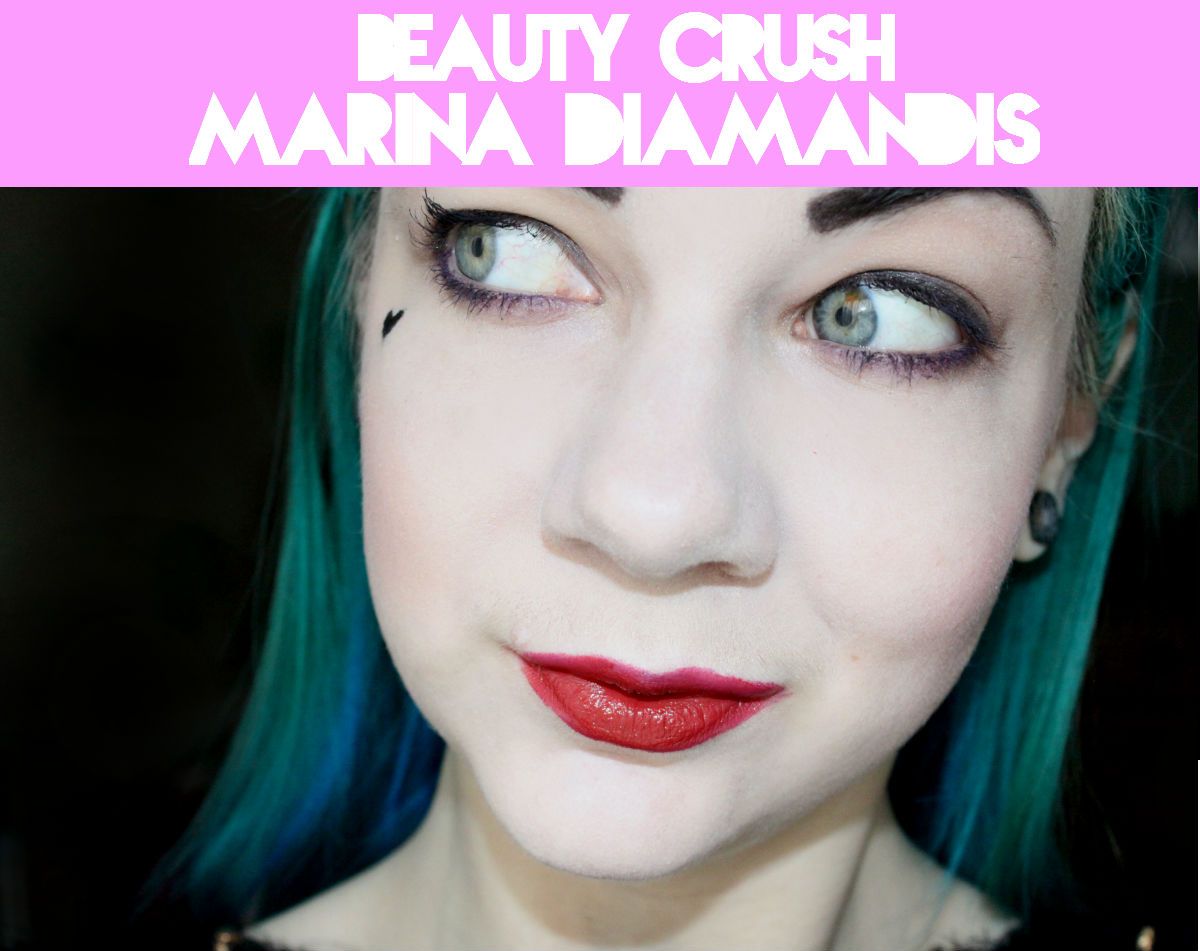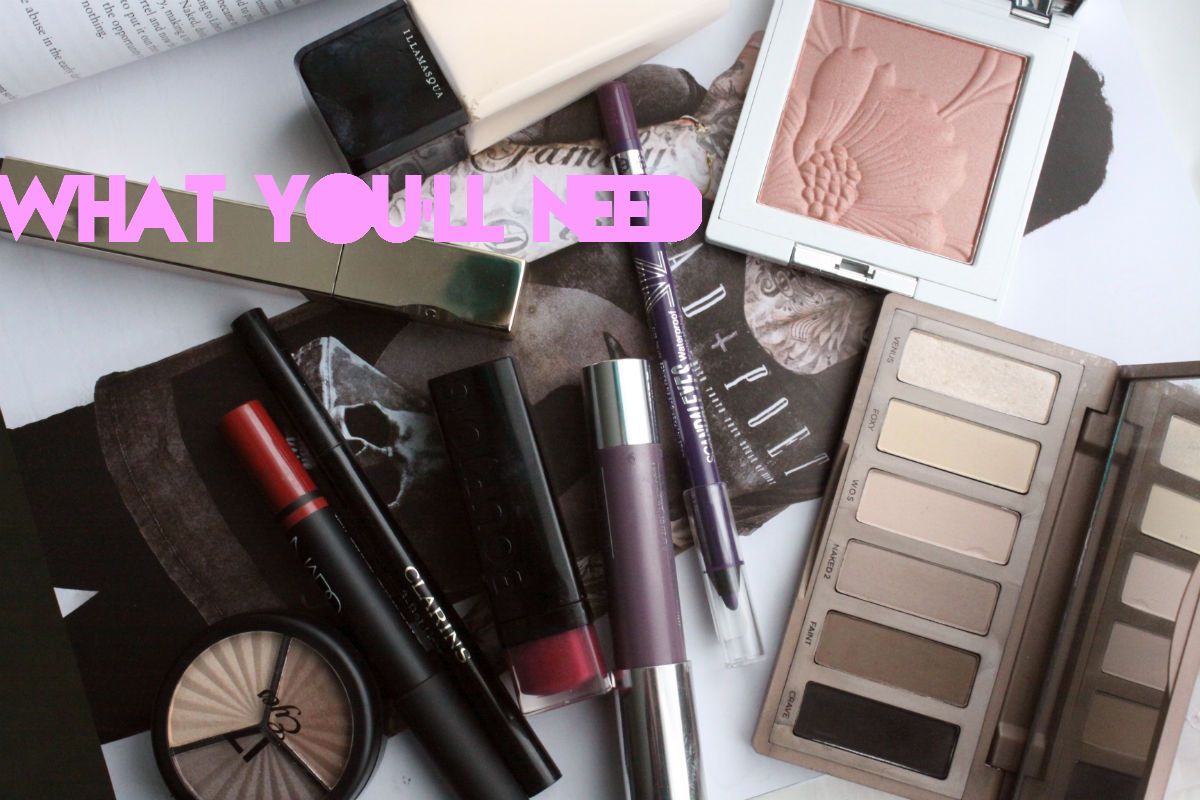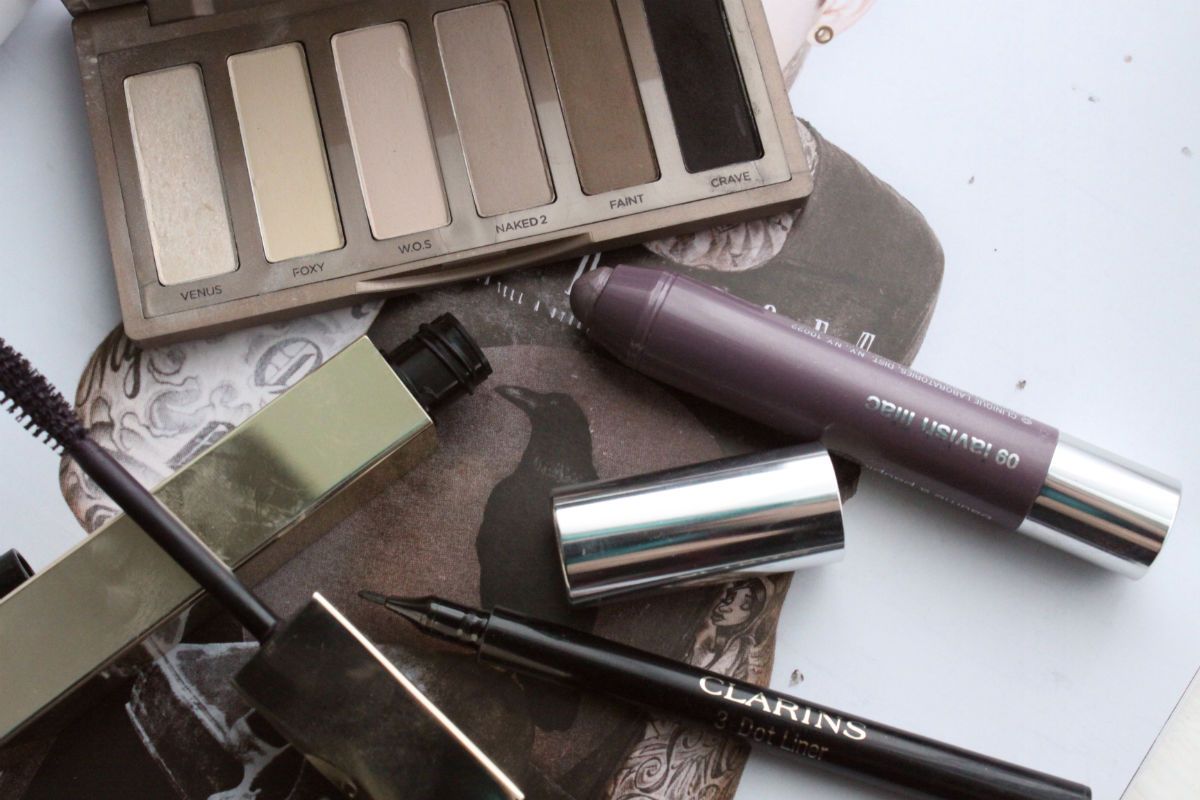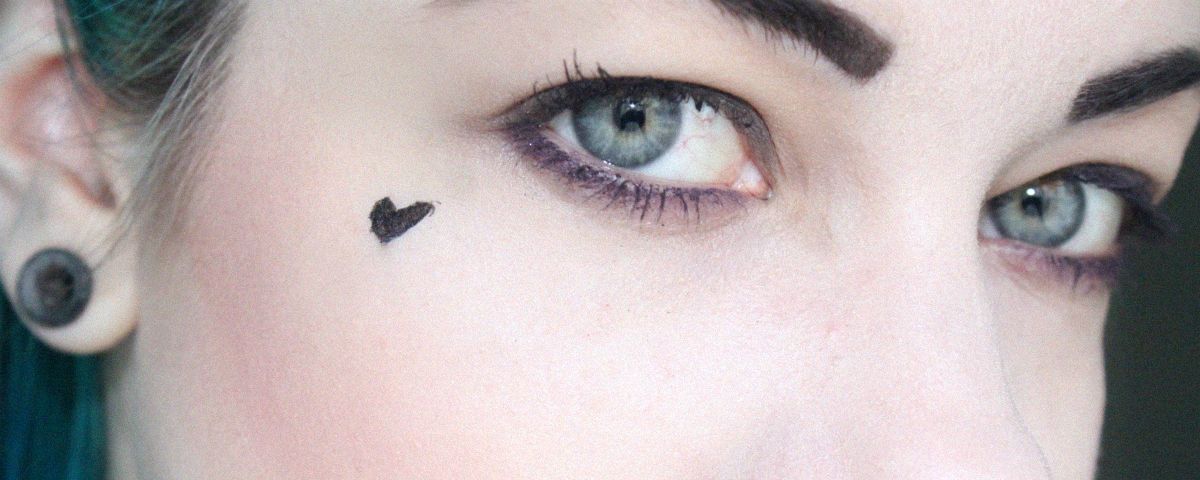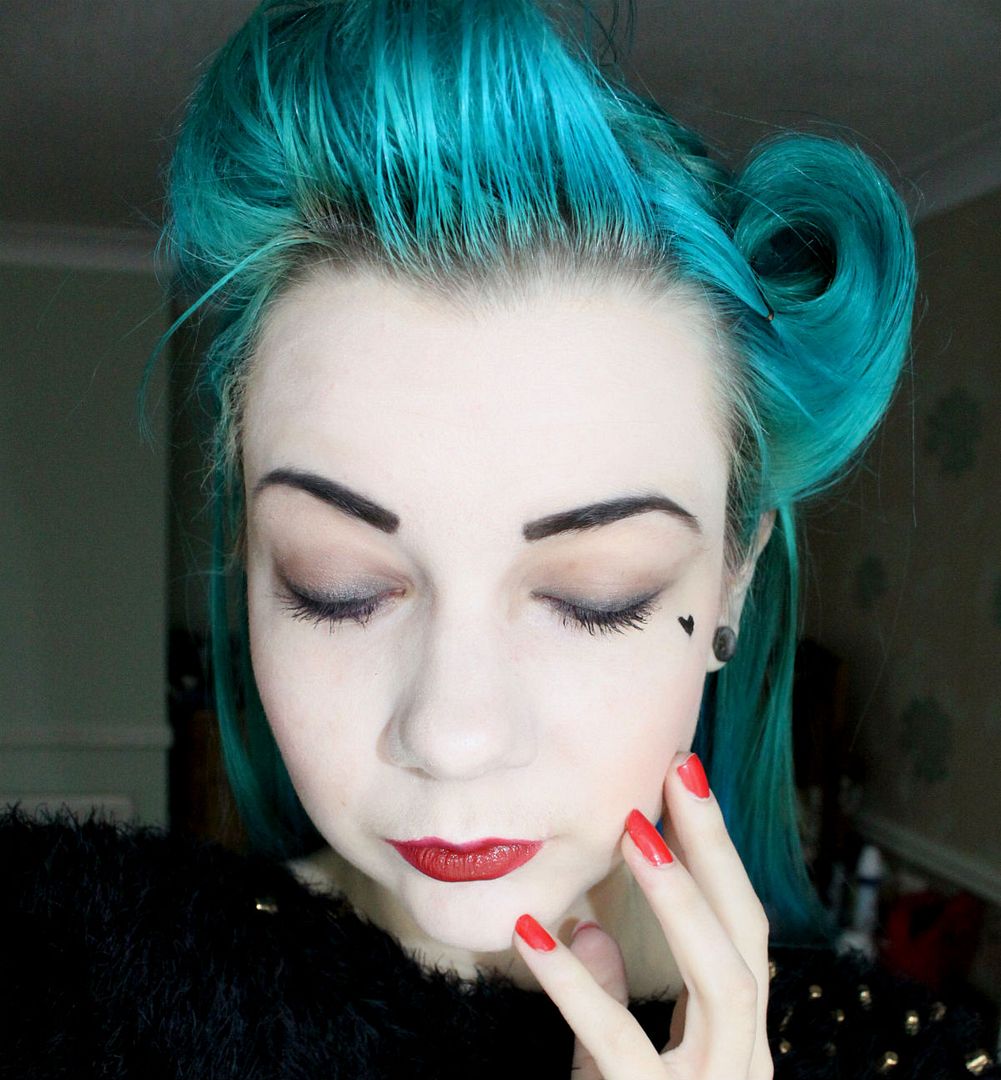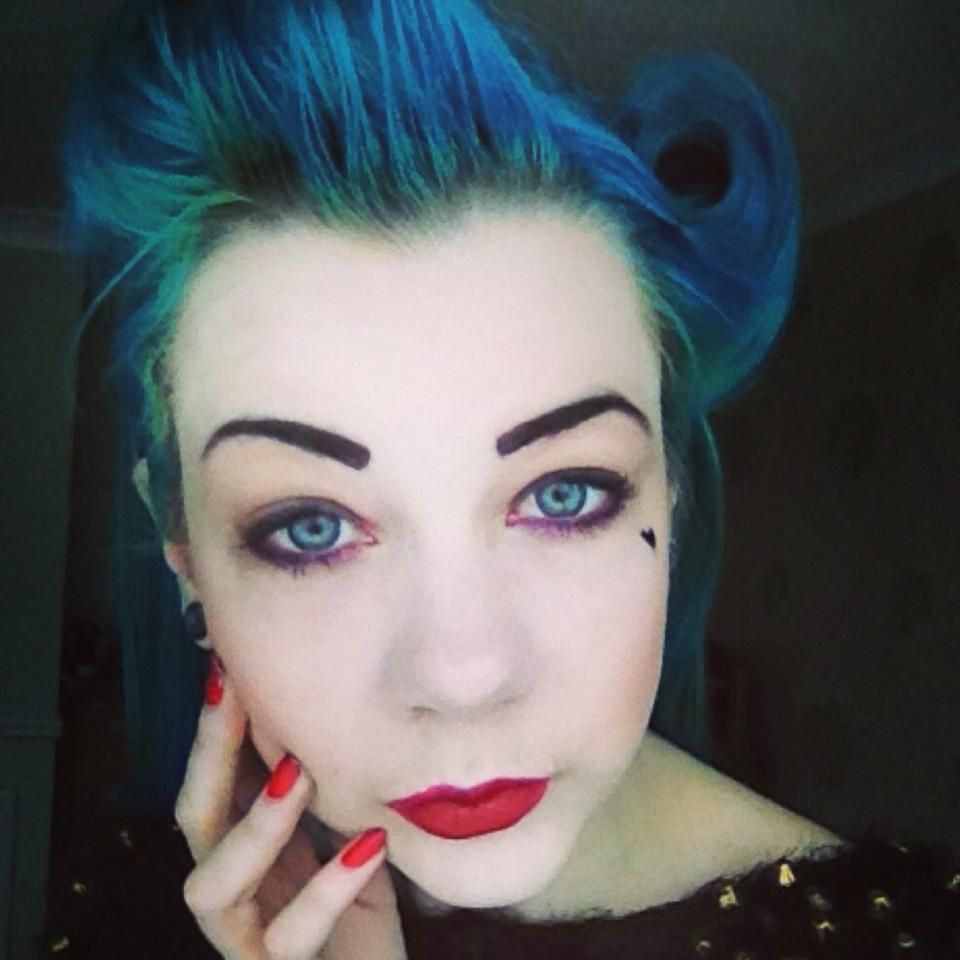 this is how to be a heartbreaker: boys they like the look of danger...
beauty crush series: marina diamandis, lead singer of marina and the diamonds
I. Love. Marina. I love her. I think she's awesome. A full on fortified bubblegum pop princess, she has this kind of hardened edge about her. She's a bit Katy Perry, a bit Gaga, but ultimately she's totally and utterly nailed her own style, which i've noticed lately that I think Kate Nash is taking a lot of influence from. Upon releasing her latest album Electra Heart last year, she took on this kind of vintage grunge look and predictably, I fell for it head first. You've got a figure like a pin up, figure like a doll.
The look I went for was from the album cover of Electra Heart, because it was vintage and modern all in one go. I didn't want the full hair look, so what I did was took a triangular section of the side of my hair and swept it under into a little victory roll. I did this by sectioning off the bit of hair I wanted, backcombing it at the roots and hairspraying, then gripping it halfway and rolling the bit sticking out over the top of the halfway grip under my finger, then rolling it down tightly into a roll and pinning securely. I then created a little cushion of hair behind my fringe by doing the same but a bit messier because I don't really like that perfect plastic vintage roll look, I prefer mine a bit dirty and lived in, and then I just took my fringe and hairsprayed it to the top to create a sort of bouffant. I left the rest of my hair down, as it was. You bought a star in the sky tonight, because your life is dark and it needs some light.
I did the makeup by first creating my base using Illamasqua's Light Liquid Foundation in shade 115 to create a really pale base, and then contoured my cheeks with the soft peach of Clinique's Fresh Bloom All Over Colour in shade Peony Blend*. Then I actually did the eyebrows, because I wanted to make sure I didn't go over the top with the eyes compared to the eyebrows - this way I could see how dark they were first. I did the eyebrows by taking the black from my Urban Decay Naked Basics Palette* and creating a really intense but not too thick line. I used my Clinique Chubby Stuck for Eyes in shade Lavish Lilac* as a base for the eyes, and then swept this Seventeen Trio in In The Nude* over the lid - I used the middle shade for this. I then darkened the corners with the darkest shade in this trio. I popped some of the black from the UD Naked Basics palette along my top lash line and blended, blended blended! I had to reapply this about three times to create that smokey look. I did the mascara with Clarins Mascara in Intense Plum*, and lined the bottom of the eyes with my Rimmel Scandaleyes in shade Purple*. I know exactly who I am and who I want to be, I know exactly why I walk and talk like a machine.
I used this amazing brand new NARS Satin Lip Pencil in Golshan* all over the lips, and pinkened out the corners by using Bourjois Rouge Edition in shade 18*. Lonely Hearts Club - do you want to be with somebody like me, oh?
To complete the Marina Electra Heart look, I added the little heart under my eye on my cheek using Clarins 3 Dot Liner* for extra precision! You're vulnerable, you are not a robot.
I have a big Beauty Crush on Marina, and this look was easy to do at home and made me feel a bit like Marina but also still like me. This was the first time I ever attempted a victory roll (!) and omg i'm in love. I'm looking forward to hearing more of Marina in the future, and interested to see where she takes it to next. I think she's a bit underrated as a beauty icon, and she always looks flawless and individual to me. She seems to rock her own style very well, and is one of those girls in the pop industry that don't seem to conform quite as much as your candy pink Girls Aloud type of pop star. For flawless fifties style makeup with an edge, rock it like Marina.
What do you think of Marina Diamandis? Do you like this look? Do you use any of the beauty products I featured? Will you give this a go yourself?
Cos i'm a primadonna girl, all I ever wanted was the world.